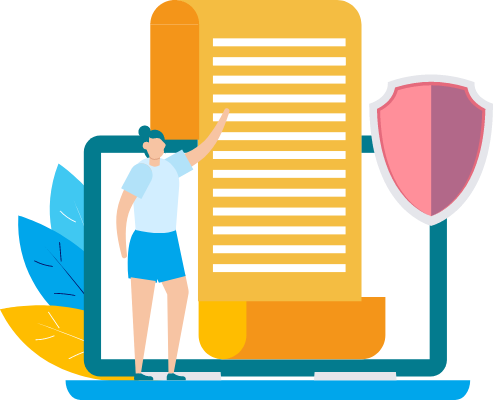 Privacy Policy
About Us
Our website hallocall.com ("Website"), any associated HalloCall Mobile Application, present or future, ("Application(s)"), are operated by, and the services available on Website and Application from time to time ("Services") are provided by, Swiftreload Inc. with registered office in Toronto, its affiliates and subsidiaries (collectively, "Company", "we" or "us"). This Privacy Policy is incorporated by reference in our Terms and Conditions, which is binding on all our customers, prospective customers, our customers' customers (both direct and indirect), partners, resellers, and visitors to or users of Website, Application and Services.
Introduction
We respect your privacy and are committed to protecting it by complying with this policy.
This policy describes:
How we collect, use, disclose, and protect the data of our customers, Website and Application users ("you").
Describes the types of data we may collect from you or that you may provide when you visit or use the Website, Application and use our Services.
Our practices for collecting, using, maintaining, protecting, and disclosing that data.
This policy applies to data we collect, use, or disclose about you:
On this Website or Application.
In email, text, and other electronic messages between you and this Website or Application.
Through mobile and desktop applications you download from this Website or Application, which provide dedicated non-browser-based interaction between you and this Website or Application.
When you interact with our advertising and applications on third-party websites and services if those applications or advertising include links to this policy.
From social media pages of our Company.
The Website and Application may include links to third-party websites, plug-ins, services, social networks, or applications. Clicking on those links or enabling those connections may allow the third party to collect or share data about you. If you follow a link to a third-party website or engage a third-party plugin, please note that these third parties have their own privacy policies and we do not accept any responsibility or liability for these policies. We do not control these third-party websites, and we encourage you to read the privacy policy of every website you visit.
Please read this policy carefully to understand our policies and practices for collecting, processing, and storing your data. If you do not agree with our policies and practices, your choice is not to use our Website, Application or Services. By accessing or using this Website, Application or Services, you indicate that you understand, accept, and consent to the practices described in this policy.
AS PART OF THE SERVICES, YOU MAY BE PROVIDED WITH A TELEPHONE NUMBER FORMATED FOR SPECIFIC COUNTRY. THE TELECOMMUNICATIONS INFRASTRUCTURE NECESSARY TO PROVIDE THE SERVICES ARE LOCATED THAT SPECIFIC COUNTRY, AS SUCH YOU ARE UNDER THE JURISDICTION OF THE LAWS OF SUCH SPECIFIC COUNTRY when you accept the Services with the TELEPHONE NUMBER OF THAT COUNTRY.
We safeguard your information in accordance with industry procedures and security standards. HOWEVER, "PERFECT SECURITY" DOES NOT EXIST ON THE INTERNET, THEREFORE, COMPANY MAKES NO REPRESENTATIONS OR WARRANTIES WITH REGARD TO THE SUFFICIENCY OF THESE SECURITY MEASURES. COMPANY SHALL NOT BE RESPONSIBLE FOR ANY ACTUAL OR CONSEQUENTIAL DAMAGES (OR ANY OTHER DAMAGES OR LIABILITY OF ANY KIND WHATSOEVER, WHETHER AS A RESULT OF NEGLIGENCE OR OTHERWISE) THAT RESULT FROM A LAPSE IN COMPLIANCE WITH THIS PRIVACY POLICY BECAUSE OF A SECURITY BREACH OR TECHNICAL MALFUNCTION.
Data We May Collect About You
We collect and use different types of data from and about you including:
Personal data you provide: We reasonably use personal data provided by you to directly or indirectly identify you, such as your name, email address, telephone number, user name or other similar identifier, other personal information you provide to us for customer support purposes, surveys, sweepstakes or product feedback, or any other identifier we may use to contact you online or offline ("personal data"). If you do not provide us with this information, you will not be able to create an account to use our Services.
Non-personal data: Usually such data does not directly or indirectly reveal your identity or directly relate to an identified individual, such as demographic information, statistics, or aggregated information. Statistical or aggregated data does not directly identify a specific person, but we may derive non-personal statistical or aggregated data from personal data. For example, we may aggregate personal data to calculate the percentage of users accessing a specific Website or Application feature. This Website and Application also maintains a Call Detail Record (CDR – see) for each call conducted on the system. These are industry standard records used by all phone companies. We maintain this information to better understand network behavior and trends (numbers of calls made by users, typical destinations, call lengths, network type, etc.), detect potential outages and technical issues (this helps us notice things like a drop in call volume in a certain geography, a shift in call length, a change in typical networks, etc.) and for public safety reasons. All log analysis is done in an anonymous, aggregate, non-personally identifiable manner. We may look into a specific Call Detail Record in response to a customer support request.
Technical information: including the Internet protocol (IP) address used to connect your computer to the Internet, your login information, browser type and version, time zone setting, browser plug-in types and versions, or operating system and platform. We also collect device and connection-specific information when you install, access, or use our Services. This includes information such as hardware model, operating system information, battery level, signal strength, app version, browser information, mobile network, connection information (including phone number, mobile operator or ISP), device operations information.
Non-personal details about your Website or Application interactions: including the full Uniform Resource Locators (URLs), clickstream to, through, and from our Website or Application (including date and time), products you viewed or searched for, page response times, download errors, length of visits to certain pages, page interaction information (such as scrolling, clicks, and mouse-overs), methods used to browse away from the page, or any phone number used to call our customer service number. We may collect information about your activity on our Services, like service-related, diagnostic, and performance information. This includes information about your activity (including how you use our Services, your Services settings, how you interact with others using our Services (including when you interact with a business), and the time, frequency, and duration of your activities and interactions), log files, and diagnostic, crash, website, and performance logs and reports. This also includes information about when you registered to use our Services; the features you use like our messaging, calling, Status, groups (including group name, group picture, group description), payments or business features; profile photo, "Bio" information; whether you are online, when you last used our Services (your "last seen"); and when you last updated your "Bio" information.
Payment Details: cardholder name; email address, credit or debit card details (however, we only retain certain parts); chargeback information; payment service provider (PSP) ID. Usually, most of the Payment Details are available to our PSPs that process payment for our Services. We only have access to part of the information that is allowed under PCI DSS standards.
Transaction Details: transaction amount and currency.
Correspondence and complaints: any correspondence that you choose to send to us (including complaints); any information you provide to our customer care team; any information you publish about us (including on the app stores).
Transaction History: details of the transactions (including date and time and relevant service provider) you carry out on, and your visits to Website or Application.
If we combine or connect non-personal, technical, or demographic data with personal data so that it directly or indirectly identifies an individual, we treat the combined information as personal data.
Audio calls by users are transmitted either directly from user to user or, if direct transmission is not possible (due to, for example, firewalls), our servers are used to transmit the call. In the latter scenario, the information transmitted is stored briefly in volatile memory (RAM) solely to enable the transmission of the call to the other user. WE DO NOT RECORD ANY PART OF YOUR CALL IN OUR SERVER.
We want you to be assured that we do not read or listen to the content of your messages and/or calls made privately via Website or Application and we do not store those messages once they have been delivered to their destination (which on average takes less than one second). If for some reason the message was not delivered to its destination within up to 24 hours, it will be deleted from our servers.
Specific Services: Our virtual number service ("Virtual Number Services") allows you to make and receive calls by using Application through purchasing a Virtual Number we provided to you. We will also keep your Virtual Number Services call detail records for billing and legal records, and to make you relevant offers. When calling through Virtual Number, just like regular phone calls you make, details of the call are available to the phone operator of the person you called (and possibly other facilitating phone operators – but this is the same as any regular phone call you make).
How We Collect Data About You
We use different methods to collect data from and about you including through:
Direct interactions. You may give us information about you by filling in forms or by corresponding with us by phone, e-mail or otherwise. This includes information you provide when you create an account, subscribe to our Services, search for a Services, place an order for Services participate in discussion boards or other social media functions on our Website and Application, enter a competition, promotion or survey, and when you report a problem with our Website or Application.
Automated technologies or interactions. As you interact with our Website or Application, we may automatically collect technical data about your equipment, browsing actions and patterns as specified above. We collect this information by using cookies, server logs, and other similar technologies (see Cookie Notice).
Third parties or publicly available sources. We may receive information about you from third parties including, for example, business partners, sub-contractors in technical, payment and delivery services, advertising networks, analytics providers, search information providers, credit reference agencies, data brokers, or aggregators.
Friend and Family Referrals. If you choose to use our referral service to refer a friend or family member to this Website or Application, we will ask you for your friend's or family member's name and email address. We will automatically send your friend or family member a one-time email inviting him or her to visit this Website or Application. We store this information for the sole purpose of sending this one-time email and tracking the success of our referral program. Your friend or family member may contact us at support@hallocall.com to request that we remove this information from our database.
User contributions. You also may provide information for us to publish or display ("post") on public Website or Application areas or transmit to other Website or Application users or third parties (collectively, "User Contributions"). You submit User Contributions for posting and transmission to others at your own risk. Although we limit access to certain pages/you may set certain privacy settings for User Contributions by logging into your account profile, please be aware that no security measures are perfect or impenetrable. Additionally, we cannot control the actions of any Website or Application users with whom you choose to share your User Contributions. Therefore, we cannot and do not guarantee that unauthorized persons will not view your User Contributions.
Cookies and Automatic Data Collection Technologies
Our Website or Application uses cookies (small files placed on your device) or other automatic data collection technologies to distinguish you from other Website or Application users. This helps us deliver a better and more personalized Service when you browse our Website or Application. It also allows us to improve our Website and Application by enabling us to:
Estimate our audience size and usage patterns.
Store your preferences so we may customize our Website or Application according to your individual interests.
Speed up your searches.
Recognize you when you return to our Service.
You may refuse to accept browser cookies by activating the appropriate setting on your browser. However, if you select this setting, certain parts of our Website or Application may become inaccessible and certain features may not work correctly. Unless you adjust your browser settings to refuse cookies, our system will issue them. For detailed information on the cookies we use and the purposes for which we use them, see our Cookie Notice
Third Party Use of Cookies and Other Tracking Technologies.
Some content or applications, including advertisements, on the Website or Application are served by third parties, including advertisers, ad networks and servers, content providers, and application providers. These third parties may use cookies to collect information about you when you use our Website or Application. They may associate the information collected with your personal data or they may collect information, including personal data, about your online activities over time and across different websites or other online services. They may use this information to provide you with interest-based (behavioral) advertising or other targeted content.
We do not control how these third-party tracking technologies operate or how they may use the collected data. If you have any questions about an advertisement or other targeted content, you should contact the responsible provider directly. For information about how you can opt out of receiving targeted advertising from many providers, see more information in our Cookie Notice
How We Use Your Personal Data
We use your personal data to provide you with products, offer you services, communicate with you, deliver advertising and marketing, or to conduct other business operations, such as using data to improve and personalize your experiences. Examples of how we may use the personal data we collect include to:
Present our Website or Application, provide you with Services, provide with information on products, services or promotions that might interest you, provide you with customer care, and support that you request from us.
Meet our obligations and enforce our rights arising from any contracts with you, including for billing or collections, or comply with legal requirements.
Fulfil the purposes for which you provided the data or that were described when it was collected.
Notify you about changes to our Website, Application, or Services.
Ensure that we present our Website or Application content in the most effective manner for you and for your computer.
Administer our Website or Application and conduct internal operations, including for troubleshooting, data analysis, testing, research, statistical, and survey purposes.
Improve our Website, Application or Services, marketing, or customer relationships and experiences.
Enable your participation in our Website's interactive, social media, or other similar features.
Protect our Website, Application, employees, or operations.
Measure or understand the effectiveness of the advertising we serve to you and others, and to deliver relevant advertising to you.
Make suggestions and recommendations to you and other users of our Website, Application or Services that may interest you or them.
Help you purchase the Services that you have requested and to process any payments, refunds or chargebacks connected with that Services request.
Deliver the Services that you have requested to the recipient of the Services.
Allow the recipient of the Services to request further Services from us.
Contact you if it is required in relation to the Services that you have sent or to reply to any communications that you might have sent us.
Provide you with information on products, services or promotions that might interest you.
Perform marketing analysis.
To process your payments: We may use your information such as your name, phone number, email address, to process your payments for our Services through a secured third-party service provider and, on an aggregate basis to determine charges for our phone carriers and other service providers.
For security, compliance, fraud prevention and accounting purposes.
We may also use personal data to contact you about our own and third-parties' goods and services that may be of interest to you. If you do not want us to use your data ins this way, please check the relevant box located on the form where we collect your data (the order form/registration form)/adjust your user preferences in your account profile.
We may use personal data to enable us to display advertisements to our advertisers' target audiences. Even though we do not disclose your personal data for these purposes without your consent, if you click on or otherwise interact with an advertisement, the advertiser may assume that you meet its target criteria.
Disclosure of Your Personal Data
We may share your personal data with:
Any member of our corporate group, which means our subsidiaries, and our affiliates.
Business partners, suppliers, service providers, sub-contractors, and other third parties we use to support our business (such as analytics and search engine providers that assist us with Website or Application improvement and optimization). We contractually require these third parties to keep that personal data confidential and use it only for the contracted purposes.
Third parties to market their products or services to you if you have consented to/not opted out of these disclosures. We contractually require these third parties to keep that personal data confidential and use it only for the contracted purposes.
Advertisers and advertising networks that require the data to select and serve relevant ads to you and others. We do not disclose data about identifiable individuals to our advertisers, but we may provide them with aggregate information about our users (for example, we may inform them that 500 men aged under 30 have clicked on their advertisement on any given day). We may also use such aggregate information to help advertisers reach the kind of audience they want to target (for example, women in a specific location). We may make use of the personal data we have collected from you to enable us to comply with our advertisers' wishes by displaying their advertisement to that target audience.
To fulfil the purpose for which you provide it. (For example, if you give us an email address to use the "email a friend" feature of our Website or Application, we will transmit the contents of that email and your email address to the recipients.)
For any other purposes that we disclose when you provide the data.
With your consent.
We may also disclose your personal data to third parties:
In the event that we sell or buy any business or assets, in which case we may disclose your personal data to the prospective seller or buyer of such business or assets.
To a buyer or other successor in the event of merger, divestiture, restructuring, reorganization, dissolution, or other sale or transfer of some or all of our assets, whether as a going concern or as part of bankruptcy, liquidation, or similar proceeding, where one of the transferred assets is the personal data we hold. In such a situation we would make reasonable efforts to request that the new combined entity or other structure follow this Privacy Policy with respect to your personal data. If your personal data was intended to be used differently, we would ask the new entity to provide you with prior notice.
To comply with any court order, law, or legal process, including responding to any government or regulatory request.
To enforce or apply our Terms and Conditions and other agreements.
To protect the rights, property, or safety of our business, our employees, our customers, or others. This includes exchanging information with other companies and organizations for the purposes of cybersecurity, fraud protection, and credit risk reduction.
To act in urgent circumstances to protect the personal safety of users of our services or members of the public.
We may share non-personal data without restriction.
Information You Share Publicly
Some of our Services allow you to share information with others on a public basis. If you post information on a public feature of our Services or through social media sites, plug-ins or other applications, do not forget this information is public on our Services and, depending upon your privacy settings, may also become public on the Internet. When you post on public or shared groups, the admin of such groups has the ability to allow everybody to access it. We cannot prevent or control further use of this information so please make sure you only post information that you're happy to be seen publicly. We may also further use such public information you share, for various reasons, such as improving our service and providing you with relevant content, and analyzing trends.
You can control what data you share through privacy settings available on some social media sites. Please refer to those third-party sites' privacy policies and terms of use to learn more about their privacy practices, as we do not control these.
You can control what data you share through privacy settings available on some social media sites. Please refer to those third-party sites' privacy policies and terms of use to learn more about their privacy practices, as we do not control these.
At this stage, whatever you share publicly is available to the entire community of Website and Application users. If you wish to remove a certain piece of content you have shared in the past, you can do that by deleting that content. It will be removed from our services but may remain on local devices of some users (assuming they have chosen to save it).
Consent to Personal Data Transfer
Your Personal Data Use Choices
We strive to provide you with choices regarding certain personal data uses, particularly around marketing and advertising.
Our Website or Application may, from time to time, contain links to and from the websites of our partner networks, advertisers, and affiliates, or include plug-ins enabling third-party features. If you follow a link to any third-party website or engage a third-party plug-in, please note that these third parties have their own privacy policies and that we do not accept any responsibility or liability for these policies. Please check these policies before you submit any personal data to these third parties.
Accessing and Correcting Your Personal Data
You may send us an email at support@hallocall.com to request access to, correct, or delete personal data that you have provided to us. We cannot delete your personal data except by also deleting your user account. We may not accommodate a request to change or delete information if we believe the change or deletion would violate any law or legal requirement or negatively affect the information's accuracy.
Data Retention
Except as otherwise permitted or required by applicable law or regulation, we will only retain your personal data for as long as necessary to fulfill the purposes we collected it for, including for the purposes of satisfying any legal, accounting, or reporting requirements. Under some circumstances we may anonymize your personal data so that it can no longer be associated with you. We reserve the right to use such anonymous and de-identified data for any legitimate business purpose without further notice to you or your consent.
Data Security
The security of your personal data is very important to us. We use physical, electronic, and administrative safeguards designed to protect your personal data from loss, misuse, and unauthorized access, use, alteration, or disclosure.
The safety and security of your information also depends on you. Where we have given you (or where you have chosen) a password for access to certain parts of our Website or Application, you are responsible for keeping this password confidential. We ask you not to share your password with anyone.
Unfortunately, the transmission of information via the internet is not completely secure. Although we do our best to protect your personal data, we cannot guarantee the security of your personal data transmitted to our Website or Application. Any transmission of personal data is at your own risk. We are not responsible for the circumvention of any privacy settings or security measures contained on the Website.
Back-Up: When you back-up your HalloCall conversations in your phone, they are kept on your device's service according to operating system's (Google/ iOS / desktop operating system) terms and policies and are no longer protected by our end-to-end encryption and are not saved in our servers in cases your backed-up information deleted.
Children's Online Privacy
We do not direct our Website or Application to minors and we do not knowingly collect personal data from children under 16 AGE or as defined by local legal requirements. If we learn we have mistakenly or unintentionally collected or received personal data from a child without appropriate consent, we will delete it. If you believe we mistakenly or unintentionally collected any information from or about a child, please contact us as provided in Contact Information below.
Sensitive permissions
To provide you the best service, Website or Application imports your device's contacts automatically. We do not collect or store such information, but only access it to display it in Website and Application and optimize your user experience. To deliver the calling service, Website and Application use your device's microphone to read your audio message and transfer it to the other party you are talking to. Website and Application has NO audio record function.
Telemarketing
National "Do Not Call" laws allow you to place residential wireline, wireless and VoIP phone numbers on the National Do Not Call Registry to prevent telemarketing calls to those numbers. If you would like to add your numbers to this list, you may do so by visiting http://www.lnnte-dncl.gc.ca/
You should be aware that even if you add your number(s) to the Do Not Call list, most telemarketing laws allow companies to contact their own customers. If at any time you would like to be removed from our telemarketing list, please let us know by contacting us at support@hallocall.com. Please allow 30 days for your telephone number to be removed from any sales programs that are currently underway. Please note that we will still call you regarding your account in Website or Application and Services even if you remove your number from our telemarketing list.
Changes to Our Privacy Policy
This policy may change from time to time. Your continued engagement with our Website or Application after any such revisions indicates that you accept and consent to them, so please check our Privacy Policy periodically for updates. If the changes materially alter how we use or treat your personal data we will notify you by email to the primary email address specified in your account and/or through a notice on the Website or Application home page.
Your Rights
You have a right to obtain a copy of, and the right to rectify any inaccuracies in, the personal data we hold about you by making a request to us in writing. You also have the right to request erasure, restriction, portability, or object to the processing, of your personal data or not to be subject to a decision based on automated processing, including profiling. You should inform us of any changes to your personal data. Any requests made under this section can be made using the contact details set out below. We will respond to your request in writing, or orally if requested, as soon as practicable and in any event not more than one month after receipt of your request. You have the right to lodge a complaint with the Office of the Privacy Commissioner of Canada if unhappy with how your personal data is being handled by us. Their contact details are as follows:
Office of the Privacy Commissioner of Canada, 30, Victoria Street, Gatineau, Quebec, K1A 1H3.
Toll-free: 1-800-282-1376
Phone: (819) 994-5444
TTY: (819) 994-6591
If we are relying on your consent to allow us to process your information, you can withdraw your consent at any time. From that point on we would no longer be able to carry out the processing we were carrying out with your consent. Any processing we carried out before you withdrew your consent would remain valid. We do not generally rely on consent for processing personal data.
California residents may learn more about their rights, including how to exercise their rights under the California Consumer Privacy Act of 2018, by reviewing our California Privacy Notice
Please contact us at via email, phone or mailing us at our physical address indicated below to exercise any of your rights under this section.
Contact Information
Please address questions, comments, and requests regarding this privacy notice and our privacy practices to support@hallocall.com.